Former Carolina WR Helping QB Prospect With Recruiting Process
247 SPORTS ARTICLE - FORT MILL, S.C. - Former South Carolina wide receiver Tori Gurley is lending his experience to high school football players looking to make the jump to the next level.
Gurley, who spent time on seven different NFL rosters after two seasons at South Carolina, recently started a recruiting consultation service, to share feedback and guidance about the process. Jadyn Davis, a 2024 quarterback from Catawba Ridge High School, is counted among Gurley's clients.
Davis already has a handful of college offers, including South Carolina. Gurley's loyalty to the Gamecocks is strong, no doubt, but his relationship with Davis is pretty important, too.
"I'm proud of (Davis), in any direction he goes." Gurley said. "I just appreciate his family allowing me to teach him about the business and the academic side of how college sports, how it works at that level. With that being said, I'm excited to watch him and his teammates go out and have a helluva year and I challenge him personally, every day, to find a way to get better.
"Those offers don't mean anything. Let's keep working, because if you go out and perform at a high level, then your teammates are going to play at a high level. I want him to leave out of here with multiple state championships. We don't just play for being a region champ or making it to the Upper State championship game. I want him to experience holding that trophy up at Williams-Brice Stadium."
RELATED:Coach Speak: Jadyn Davis |The latest recruiting news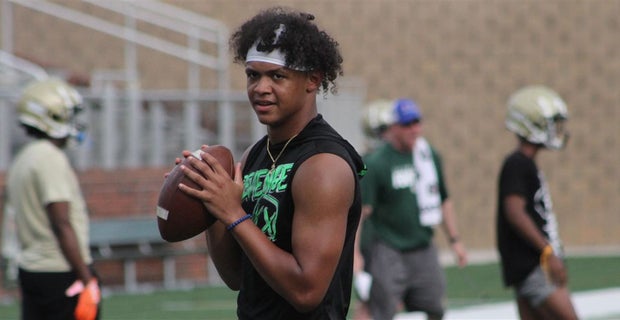 That means a lot to Davis, who has legitimate interest in the Gamecocks. He plans on visiting Columbia at some point next month, though no date has been set in stone.
"(Gurley's) just a big brother to me," Davis said. "There's no bias toward South Carolina or anything. Whoever I want to get on the phone with, he has connections everywhere, so obviously they can't contact me, but they can contact Tori and I can contact them with their number. He's a great family friend and he's like family to us now."
9

COMMENTS
It's the same with any high school prospect Gurley works with now. He just wants what's best for each guy and his family.
"I love the structure that (Davis' parents) have in place, where he's grounded, he continues to work and we're pushing for him to be the No. 1 quarterback in the country," Gurley said. "That's what I challenge him to. I don't challenge him to do anything less than that. Want to be No. 1 in everything. If he goes and makes that happen, then everything else will fall into place."